A side trip.
On the way to Fossil, there are some interesting side trips. Biggs Oregon is a crossroad, in a way, for visiting the realm of railroad tycoon, Sam Hill.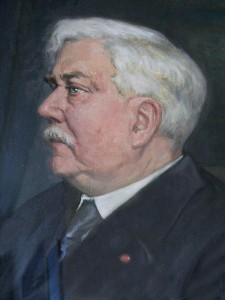 Samuel Hill (May 13, 1857—February 26, 1931), usually known as Sam Hill, was a businessman, Railroad executive, lawyer, and advocate of good roads in the Pacific Northwest. He substantially influenced the region's economic development in the early 20th century.
Some of his projects included the Peace Arch, a monument to 100 years of peace between the United States and , on the border between Blaine, Washington, and Surrey, British Columbia, the Maryhill Museum of Art, a building originally conceived as a residence; and Maryhill Stonehenge, a Replica of Stonehenge in Maryhill, Washington, a memorial to fallen World War I soldiers from Klickitat County, Washington.
The Maryhill Stonehenge is a full-size, astronomically-aligned Stonehenge replicas and derivatives of Stonehenge. It was commissioned in the early 20th century by Hill and dedicated on July 4, 1918 as a memorial to those that died in World War I. The memorial was completed in 1929.
The hills surrounding the monument are festooned with modern wind generators that are quixotic to the area much like Sam Hill himself. He would probably have approved their addition.
In addition to more than 80 works by Auguste Rodin, unique chess sets and the renowned Theater de la Mode, featuring small-scale mannequins attired in designer fashions of post-World War II France, the museum also maintains an extensive American Indian collection and Russian Icon paintings donated by Queen Marie of Edinburgh of Romania.